Benchmark Report
2022 Regional Whistleblowing Hotline Benchmark Report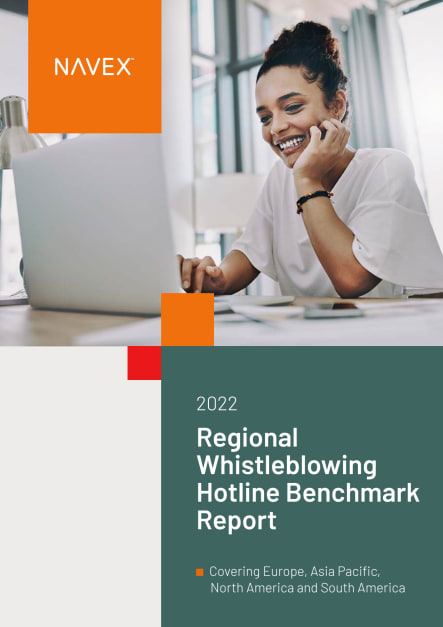 Get instant access to the Benchmark Report
By submitting this form, you agree that NAVEX will store and process your personal information above according to our Privacy Statement and may send you thought leadership, marketing emails, and events. You can unsubscribe from communications at any point.
About this Benchmark Report
Providing benchmark data and regional comparisons for Europe, APAC, North America and South America.
What You'll Learn:

The 2022 Regional Whistleblowing Hotline Benchmark Report provides an in-depth analysis of the data collected from the largest database of whistleblowing reports in the world. The results of this report can help you understand how your performance matches up to industry norms, and how these insights can prepare you for the future.

How whistleblowing behaviour varies between Europe, APAC and the Americas
The impact of Covid-19 and remote working on whistleblowing across the world
Manage local compliance challenges seen from this year's reporting trends
Prepare your speak-up programme for oncoming whistleblowing regulations
Evaluate your own whistleblowing programme performance in your region

Good analysis and benchmarking of whistleblowing hotline data helps organisations answer crucial questions about their risk and compliance programmes.

Each year, the NAVEX Regional Whistleblowing Hotline Benchmark Report delivers an in-depth analysis of the world's largest employee incident database to compare whistleblowing programme performance between Europe, APAC, and the Americas.