Benchmark Report
2021 Definitive Risk & Compliance Benchmark Report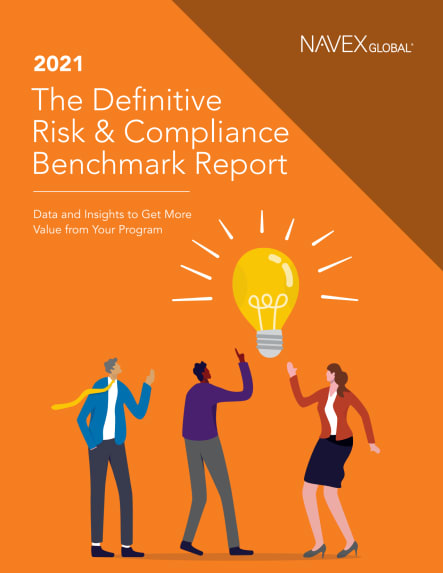 Get started benchmarking your compliance program today
By submitting this form, you agree that NAVEX will store and process your personal information above according to our Privacy Statement and may send you thought leadership, marketing emails, and events. You can unsubscribe from communications at any point.
About this Benchmark Report
Our annual comprehensive review of risk and compliance (R&C) programs offers key findings, analysis and insight to help organizations measure, evaluate and advance their programs.
For anyone responsible for:

Risk and compliance program creation or management

Insights and analysis addressed in the report include:

What are the top priorities of R&C decision makers?
What elements make an effective R&C program, and how are they administered?
How do programs evaluate their performance?
How does technology impact program effectiveness and design?
How does senior management's view of R&C programs influence program outcomes?
How do R&C programs integrate risk management functions?
What role does the regulatory environment play in program performance?
How can a successful program reduce regulatory risk while measurably improving efficiency, accuracy and consistency?
And more!

Page length:

68 pages
Learn more about our integrated risk and compliance products and services