Micro Learning
Speaking on Behalf of Our Organization: Authorization Matters
Course Preview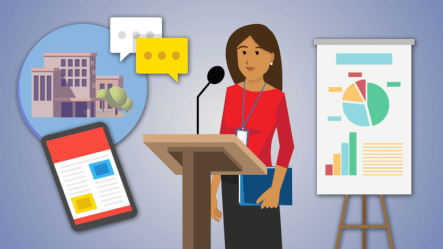 Try it for free!
By submitting this form, you agree that NAVEX will store and process your personal information above according to our Privacy Statement and may send you thought leadership, marketing emails, and events. You can unsubscribe from communications at any point.
Thank you for your interest in our online compliance training solutions. A NAVEX representative will contact you shortly. If you have any immediate questions, please give us a call 1-866-297-0224.
There are times when, with the best of intentions, employees may want or feel qualified to speak for their organization. But without the proper authorization to do so, this could cause harm, violate the law or create legal liability for the organization. This micro learning explores the problems that speaking on behalf of an organization, without permission, can cause - and the importance of following the rules and processes that have been put in place to avoid such problems.
This course works well with