Micro Learning
Abusive Conduct & Bullying: Workplace Violence for Managers
Course Preview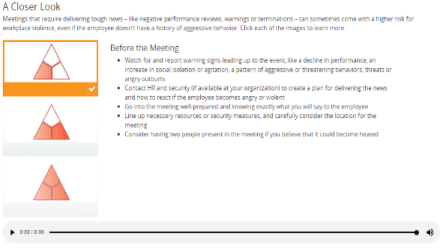 Try it for free!
We respect your privacy and won't share your information with outside parties. View our privacy statement.
Thank you for your interest in our online compliance training solutions. A NAVEX representative will contact you shortly. If you have any immediate questions, please give us a call 1-866-297-0224.
Managers are often tasked with situations that come with a higher risk for workplace violence, like negative performance reviews, warnings or terminations. With this in mind, this micro learning course walks managers through the steps they can take before, during and after a high-risk meeting to keep everyone safe.
This course works well with
Workplace Violence and Bullying

Our Workplace Violence and Anti-Bullying training course covers employee health and safety, provides practical skills for preventing, responding to and reporting incidents, and reduces the risk of lawsuits and fines.

Workplace Harassment Training

Workplace harassment training courses, including online sexual harassment training, help prevent harassment in the workplace. Learn more from NAVEX.