Get Free Policy and Procedure Management Software for 14 Days
PolicyTech simplifies document management by providing an easy online interface to manage, control and share your policies and other critical documents.
"Our policies and procedures are living documents that staff reference and look at every day, in big part because the PolicyTech solution actively encourages engagement."
— Craig Cook, Executive Director, Attain
Please complete the form and we will immediately set up a free 14-day trial account for you. Your account information and password will be emailed to you. Please make sure you provide a valid corporate email address.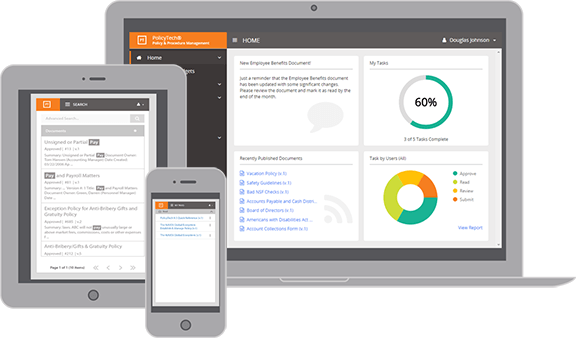 Get 100% Free, 14-day Trial of Policy Management Software
Thank you for requesting a free trial of PolicyTech, the global leader in enterprise policy and procedure management software. To ensure you get the most out of your free trial, an account executive will contact you to walk you through a demo.
WHAT HAPPENS NEXT?
An email with instructions for downloading and getting started with PolicyTech will be sent to you shortly. If you've got a burning question right now, just call us at 1-866-297-0224.