White Paper & eBook
European Compliance Programmes: 5 Key Insights for 2021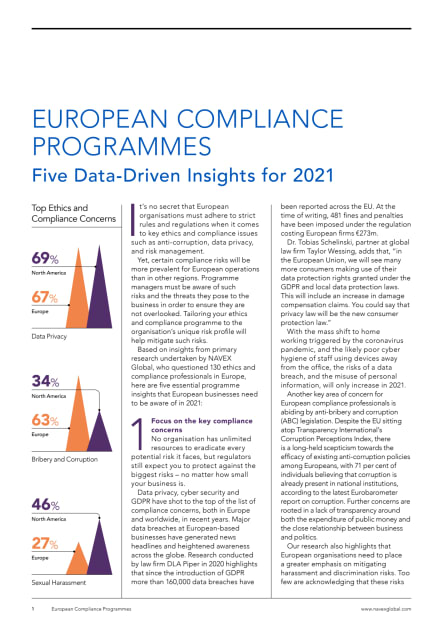 Get instant access to the White Paper & eBook
We respect your privacy and won't share your information with outside parties. View our privacy statement.
About this White Paper & eBook
What are the most critical factors that European organisations need to consider when establishing an ethics and compliance programme for 2021? Using regional data insights taken from NAVEX's Risk & Compliance Programme survey, we highlight the key challenges, risks, and opportunities that are specific to European organisations when developing an effective compliance programme.
For anyone responsible for:

Ethics and compliance programme management

What You'll Learn:

Top risk concerns from over 100 European compliance professionals
Most likely gaps within European compliance programmes
Biggest points of failure in European programme activities

Page length:

5 pages