White Paper
Due Diligence in a Post-COVID World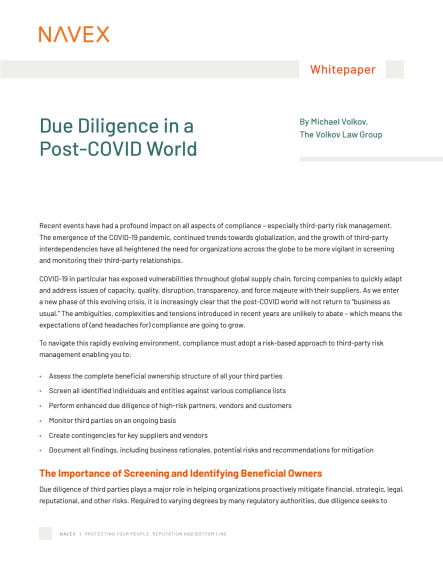 Get instant access to the White Paper
We respect your privacy and won't share your information with outside parties. View our privacy statement.
About this White Paper
The emergence of the COVID-19 pandemic, continued trends towards globalization, and the growth of third-party interdependencies have all heightened the need for organizations across the globe to be more vigilant in screening and monitoring their third-party relationships.
For anyone responsible for:

Vendor management, third party due diligence, third party risk management

What You'll Learn:

The importance of screening and identifying beneficial owners
How to develop procedures to monitor and refresh due diligence reviews of suppliers
Why due diligence efforts are so critical in high-risk countries and financial institutions

Page length:

4 pages