White Paper
Creating a Unified ESG Program 6-Step Checklist for Getting Started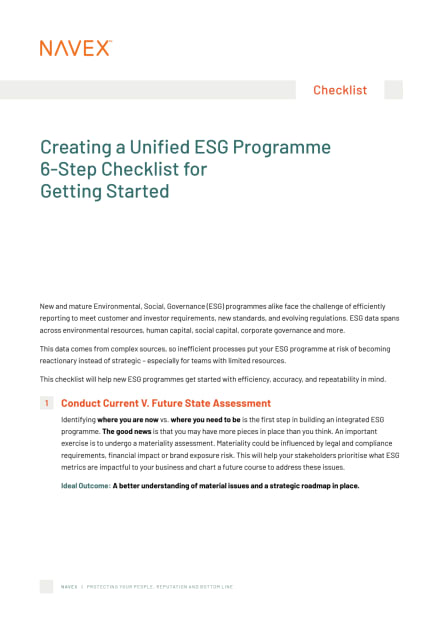 Get instant access to the White Paper
By submitting this form, you agree that NAVEX will store and process your personal information above according to our Privacy Statement and may send you thought leadership, marketing emails, and events. You can unsubscribe from communications at any point.
About this White Paper
New and mature Environmental, Social, Governance (ESG) programs alike face the challenge of efficiently reporting to meet customer and investor requirements, new standards, and evolving regulations. ESG data spans across environmental resources, human capital, social capital, corporate governance and more. This data comes from complex sources, so inefficient processes put your ESG program at risk of becoming reactionary instead of strategic – especially for teams with limited resources. This checklist will help new ESG programmes get started with efficiency, accuracy, and repeatability in mind.
For anyone responsible for:

Creating, developing or maintaining an ESG program, ESG programme reporting

What You'll Learn:

How to conduct a current vs future state assessment
How to define a program scope for the next 1-2 years
How to determine who should be involved
How to develop an internal and external communication plan
Hot to put together a disclosure and reporting plan for actionable improvements

Page length:

3 pages