Toolkit
Developing Your Compliance Programme for Sapin II Toolkit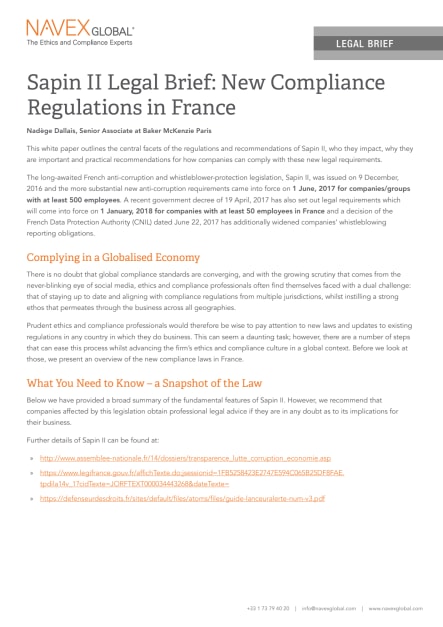 Get instant access to the Toolkit
We respect your privacy and won't share your information with outside parties. View our privacy statement.
About this Toolkit
France has taken a massive step forward in the fight against bribery and corruption with the Sapin II regulation. Download the toolkit to find out what your company should do to comply, how to more effectively manage corruption and where you should expand your programme.
For anyone responsible for:

Managing anti-bribery programmes, ethics and compliance, adhering to local and global regulations

What's included:

Sapin II Legal Brief: This legal brief, written in collaboration with Baker McKenzie will help you learn more about the regulation and give you practical steps to improve your compliance and whistleblower programme.
The Definitive Guide to Incident Management: Use this guide to set up an incident management programme that consistently collects reports and improves whistleblower protection.
Anti-Corruption Checklist: Ensure your programme meets risk standards by systematically answering key questions about systems and processes with this helpful checklist.