eBook
Top 10 Risk & Compliance Trends for 2023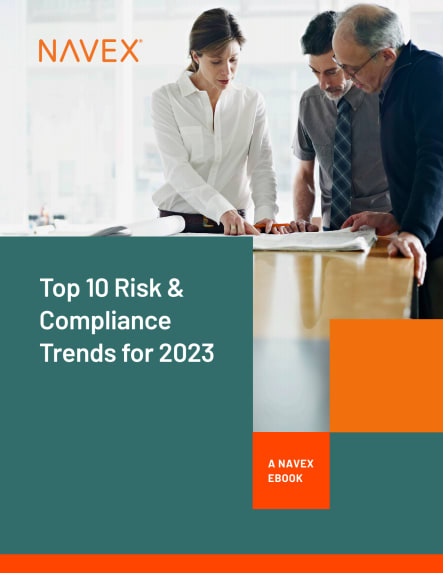 Start improving your compliance program today
About this eBook
What are the top compliance topics in 2023?  
NAVEX consulted with industry experts – including several of our own thought leaders – to discuss current compliance risks, challenges, and opportunities. The result is the latest version of our annual compliance trends eBook.  
This is your guide to what GRC professionals and other compliance industry leaders should consider and prepare for in 2023.
For anyone responsible for:

Ethics and compliance program creation or management, general counsel, risk and ESG leaders, HR leaders, CISOs, privacy officers

Learn about the top compliance industry trends of 2023, including:

Global whistleblowing trends guiding policies and speak-up programs
The importance of learning and development to a healthy speak-up culture
How to stay compliant with global privacy regulations
Regulatory changes impacting compliance and ESG programs
How developments in data transformation affect program success

Page length:

56 pages
Let us evaluate your risk & compliance program to understand what you're doing well and what you can improve.