Download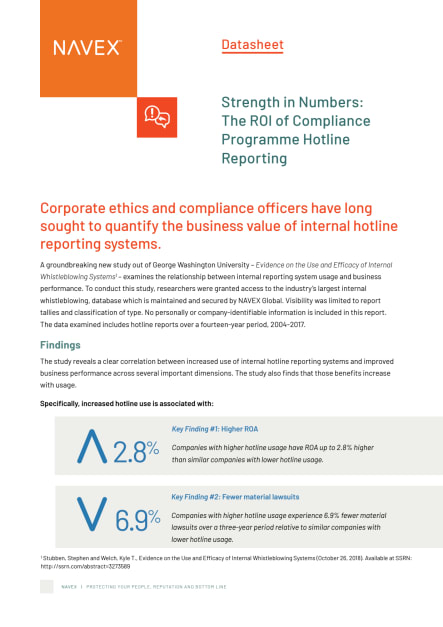 Datasheet
The ROI of Compliance Program Hotline Reporting
Download
About this Datasheet
GWU research dispels the notion that more internal complaints are inherently bad; they are not. The data shows that higher internal whistleblower activity never correlates with negative business outcomes. Rather, increase use of an internal reporting system is associated with better business results, and suggests a positive workplace culture.
For anyone responsible for:

Demonstrating the ROI of a whistleblower hotline

What You'll Learn:

Key findings that reveal a clear correlation between increased use of internal hotline reporting systems and improved business performance

Also Available:

Read the Datasheet

Corporate ethics and compliance officers have long sought to quantify the business value of internal hotline reporting systems.

A groundbreaking new study out of George Washington University – Evidence on the Use and Efficacy of Internal Whistleblowing Systems1 – examines the relationship between internal reporting system usage and business performance. To conduct this study, researchers were granted access to the industry's largest internal whistleblowing, database which is maintained and secured by NAVEX. Visibility was limited to report tallies and classification of type. No personally or company-identifiable information is included in this report. The data examined includes hotline reports over a fourteen-year period, 2004-2017.

Download the datasheet to learn more

About NAVEX

NAVEX's GRC software and compliance management solutions support the integrated risk, ESG and compliance management programs at more than 13,000 organizations worldwide.