Download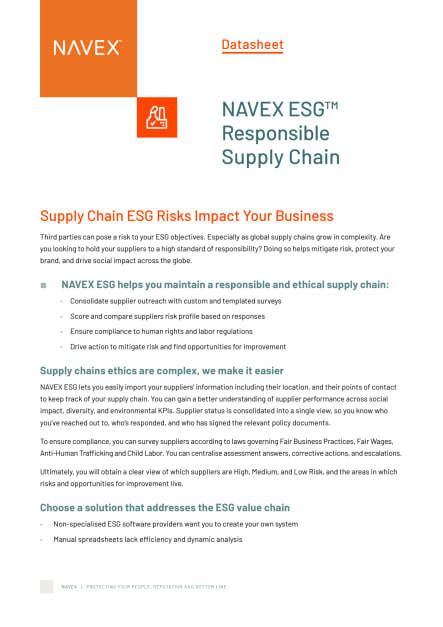 Datasheet
NAVEX ESG™ Responsible Supply Chain Management
Download
About this Datasheet
Manage the risk third parties bring to your responsibility commitments and ethics.
For anyone responsible for:

ESG reporting, responsible supply chain management

With NAVEX ESG's Responsible Supply Chain Management:

Assess your supply chain
Simplify compliance and audit activities

Read the Datasheet

NAVEX ESG Responsible Supply Chain Management

Manage the risk third parties bring to your responsibility commitments and ethics.

Organizations are getting smart and ambitiously managing governance, risk, ethics, and compliance within their four walls. Consumers, investors, and regulators are aligning with the need for companies to be ethical, resilient, and responsible to provide economic and environmental sustainability. These same groups do not forgive well run organizations if their supply chain does not uphold the same values. The faults of your third parties can quickly become your faults, destroying relationships, value, and your brand.

Addressing the environmental resiliency risk in your supply chain helps preserve and create value and resiliency. Your relationship with your suppliers requires you to manage Greenhouse Gas Emissions (GHG) and Scope 3 data, factory conditions, pay equity, water usage, diversity, and other metrics important and relevant to your industry. With your suppliers' conduct now relevant to you and how your organization and operations are perceived, your supplier data must be as accurate as your internal data. Your management, investors, and the general public will rest assured knowing you are managing your third-party sustainability information with the same diligence and accuracy as your internal metrics.

NAVEX ESG's Responsible Supply Chain Management

NAVEX ESG's Responsible Supply Chain Management provides your organization with the structure and automated governance required to provide supply chain transparency, understand contractual compliance, and take informed actions that manage risk.

Assess Your Supply Chain

Classify suppliers and vendors by risk level.
Assess your third parties on the metrics important to you. Track responses and manage escalation efforts.
Report on assessment status and findings, and drive and monitor corrective actions.

Simplify Compliance and Audit Activities

Reports and dashboards provide immediate and auditable information surrounding the ESG efforts of your supply chain for internal audit, RFPs, investor relations, business decisions, and external reporting.

About NAVEX

NAVEX's GRC software and compliance management solutions support the integrated risk, ESG and compliance management programs at more than 13,000 organizations worldwide.
Let us evaluate your compliance program to understand what you're doing well and what you can improve