Download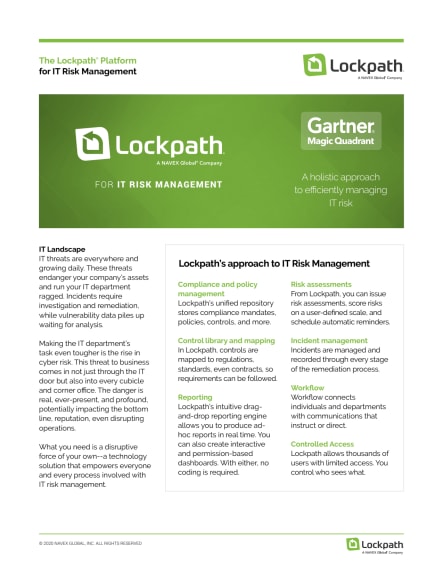 About this Datasheet
Streamline and automate IT risk management processes. Use Lockpath to identify and correlate IT assets with vulnerability data, as well as manage and triage cyber risk data. Also use Lockpath to maintain a controls library, conduct risk assessments and produce high-level reports or interactive dashboards. The platform empowers everyone and every process involved in IT risk management.
For anyone responsible for:

IT risk management

What you'll learn:

How to bring efficiency and effectiveness to the identification, analysis, mitigation and management of IT risks

Read the Datasheet

IT Risk Management

IT Landscape
IT threats are everywhere and growing daily. These threats endanger your company's assets and run your IT department ragged. Incidents require investigation and remediation, while vulnerability data piles up waiting for analysis.

Making the IT department's task even tougher is the rise in cyber risk. This threat to business comes in not just through the IT door but also into every cubicle and corner office. The danger is real, ever-present, and profound, potentially impacting the bottom line, reputation, even disrupting operations.

What you need is a disruptive force of your own–a technology solution that empowers everyone and every process involved with IT risk management.

Download the datasheet to learn more.

About NAVEX

NAVEX's GRC software and compliance management solutions support the integrated risk, ESG and compliance management programs at more than 13,000 organizations worldwide.
Want to learn more about IT Risk Management?