Download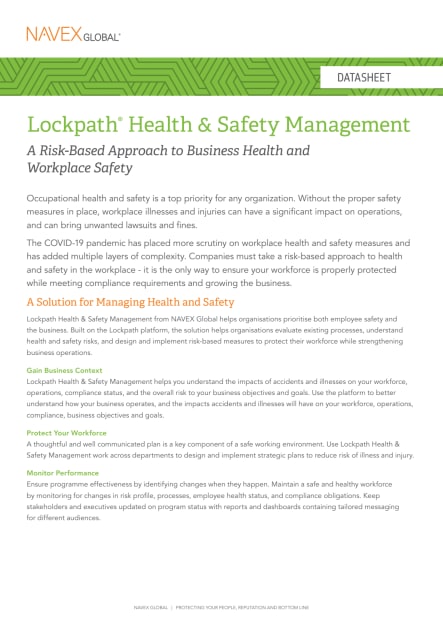 Datasheet
Health and Safety Management
Download
About this Datasheet
Bring due diligence and accountability to the day-to-day tasks of workplace health and safety management. Record and track incidents, automate OSHA reporting, conduct job hazard analyses (JHA), inspect facilities and sites and more. Bring risks identified in JHAs and inspections into view for executives to gauge operational impact.
For anyone responsible for:

Health and safety management

What you'll learn:

How to streamline health and safety compliance activities, from recording accidents and reporting incidents to conducting site inspections and remediating job hazards

Read the Datasheet

Health & Safety Management

The state of safety compliance
Most organisations stress workforce safety. The trouble is, health and safety professionals responsible for running safety programmes spend an inordinate amount of time on compliance paperwork and tasks. There are accidents to record and incidents to report. You have to conduct site inspections and remediate job hazards. Even then, compliance can be upstaged by the unexpected. A workplace accident can lead to an OSHA fine, or a lawsuit hits the 24-hour news cycle.

What if there were a better way to manage workforce safety compliance? And what if that advanced approach to compliance also aided operational risk management? The solution to both is at hand - NAVEX's Lockpath Platform.

Download the datasheet to learn more.

About NAVEX

NAVEX's GRC software and compliance management solutions support the integrated risk, ESG and compliance management programs at more than 13,000 organizations worldwide.
Want to learn more about Health & Safety Management?