Download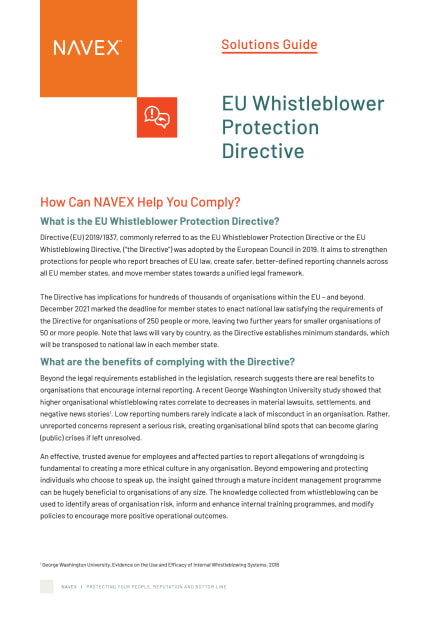 Datasheet
EU Whistleblower Protection Directive
Download
About this Datasheet
Ensure your current governance, risk and compliance (GRC) programme aligns with the EU Whistleblower Protection Directive. NAVEX offers a range of solutions designed to help you meet the requirements laid out in the Directive.
For anyone responsible for:

Ethics and compliance programme management

Page length:

6 pages
Read the Datasheet
EU Whistleblower Protection Directive
How Can NAVEX Help You Comply?
What is the EU Whistleblower Protection Directive?
Directive (EU) 2019/1937 (commonly referred to as the "EU Whistleblower Protection Directive") was adopted by the European Council in 2019. It aims to strengthen protections for people who report breaches of EU law, create safer, better-defined reporting channels across all EU member states, and move member states towards a unified legal framework.
The Directive has implications for hundreds of thousands of organisations within the EU – and beyond. December 2021 marked the deadline for member states to enact national law satisfying the requirements of the Directive for organisations of 250 people or more, leaving two further years for smaller organisations of 50 or more people. Laws will vary by country, as the Directive establishes minimum standards, which will be transposed to national law in each member state.
Download the datasheet to learn more.
About NAVEX
NAVEX's GRC software and compliance management solutions support the integrated risk, ESG and compliance management programs at more than 13,000 organizations worldwide.