Case study
Texas Roadhouse: Cooking Up a Hearty, Ethical Workplace
Download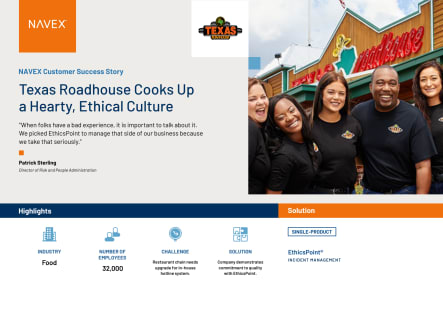 Case study
Texas Roadhouse: Cooking Up a Hearty, Ethical Workplace
Download
About this Case study
Texas Roadhouse uses NAVEX's confidential reporting system to provide employees the best service to report ethics, fraud and discrimination concerns.
For anyone looking to:

Implement an incident management system

Solution:

Page length:

2 pages

Read the Case study

Texas Roadhouse: Cooking Up a Hearty, Ethical Workplace

"Passion, Partnership, Integrity and Fun… all with Purpose" – those are the values that have built Texas Roadhouse's success in providing guests Legendary Food, Legendary Service. Headquartered in Louisville, Kentucky, the company lays claim to the highest quality food in the industry, such as hand-cut steaks, fall-off-the-bone ribs and made-from-scratch sides.

Texas Roadhouse uses that same commitment to quality with its employees by showing care and concern for every employee, including providing numerous avenues for them to report any activities that might be unethical, illegal or dangerous. In an effort to provide employees the best service for communicating those concerns with the company, Texas Roadhouse selected NAVEX to provide a confidential reporting system.

"It is a big deal to treat employees with respect, dignity and professionalism. If they need our help, we have to be able to resolve the situation quickly and effectively. We want the best system for our employees to report concerns. That is very important. NAVEX offers us a service that has the capabilities we need, is flexible and is easy to use."

- Patrick Sterling, Director of Risk and People Administration

Texas Roadhouse has always stressed the value of a fun work experience for employees. Like with any business, though, that experience is sometimes affected by behavior that goes against the company's values - including issues of ethics, discrimination or other negative behaviors.

In order to identify and prevent those issues from happening, the company provided an employee hotline and kept track of cases using hand-written notes.

"It was not ideal," said Patrick Sterling, Director of Risk and People Administration. "We created our own hotline system, but it was limited and we finally outgrew it. We decided to find a vendor that was best-in-class for our industry."

The Ideal Solution: NAVEX's Ethicspoint®

Texas Roadhouse wanted a more efficient, centralized system that directly integrated employee reports with automated case tracking, allowed anonymous web-based reporting and supported coordinated investigations between the legal and human resources teams. They chose NAVEX to provide the system.

"When folks have a bad experience, it is important to talk about it. We picked NAVEX to manage that side of our business because we take it seriously," said Sterling."

Implementing the new system with help from their dedicated representative from the NAVEX's Implementation Services team, Texas Roadhouse made sure the process would be familiar and easy for employees.

"We were able to customize the online employee reporting page to keep the look very professional and consistent with our corporate website," said Sterling.

As a result, Texas Roadhouse receives more accurate, fact-based information than before. NAVEX's trained call center personnel walk the concerned employees through a scripted process that ensures Texas Roadhouse's Employee Relations Team receives reports they can quickly take action on to resolve.

From a legal perspective, Sterling wants to make sure employee complaints are immediately brought to the team's attention. The best way to avoid a claim with the Equal Employment opportunity Commission (EEoC), Sterling says, is to provide employees a way to share their concerns and then help them by resolving the issues. "When folks have a bad experience, it is important to talk about it. We picked NAVEX to manage that side of our business because we take it seriously," said Sterling.

Now, Texas Roadhouse has a communication channel that is confidential, multi-lingual and available for employees to use online. Sterling sees nearly 40 percent of concerns reported online, a statistic he attributes to young peoples' preferred means of communication. Another 20 percent of the issues being tracked are entered into the system based on conversations between employees and managers. With everything tracked in a centralized database, Sterling's team studies overall trends in the data in search of risk issues.

Results in the House

In the changing world of risk management, a return on investment is difficult to gauge, but Sterling says the system has saved work hours equivalent to hiring another full-time employee. He has also observed better, more accurate information in the system, greater analytical visibility into risk areas, and more opportunity to communicate with employees about how to make the best possible work environment for them.

**About NAVEX** NAVEX's GRC software and compliance management solutions support the integrated risk, ESG and compliance management programs at more than 13,000 organizations worldwide.
Learn how to put EthicsPoint to use in your own organization