Download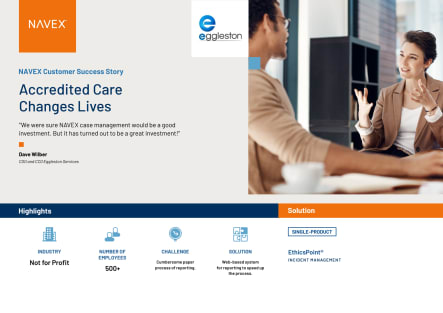 Case study
Eggleston: Accredited Care Changes Lives
Download
About this Case study
Our integrated solutions solve cross-departmental problems. See how Eggleston worked with NAVEX to implement an employee hotline service & case management.
For anyone looking to:

Implement an incident management system

Solution:

Page length:

3 pages

Read the Case study

Eggleston: Accredited Care Changes Lives

New automated service facilitates and enforces consistent reporting, driving cost savings and better decision making. Eggleston Services has been dedicated to providing a broad array of programs and services for individuals with disabilities since 1955. Their goal is to assist those with disabilities in obtaining meaningful work opportunities and to help them participate fully in their communities, helping them gain freedom from dependence on government support by providing them on-the-job training at 20 locations along with stable employment opportunities.

Dave Wilber has two goals as Chief Operating Officer and Corporate Compliance Officer for Eggleston Services. First and foremost, effectively ensuring the safety and security of their employees and the individuals they assist. Second, ensuring that the facility's exemplary accreditation is maintained via the important Commission on Accreditation of Rehabilitation Facilities (CARF) body, providing Eggleston with independent accreditation of their excellent operations and prospective clients/customers, investors and regulatory bodies with the assurance of Eggleston's reliability as a partner.

Eggleston originally started working with NAVEX to implement an employee hotline. But to more effectively track records against his two major goals – in particular, the capture and management of critical incident reports – Dave wanted to expand his case management capabilities using a system his staff would use more consistently than the cumbersome and outdated paper process that was in place. A further requirement of this new system was to create eggleston services:

Compassion and Compliance Working in Concert

Which are meaningful reports for use by senior management and outside agencies. To fulfill those needs, Dave engaged NAVEX Professional Services to help him design a system that included a simplified web-based reporting mechanism and the use of NAVEX's EthicsPoint case management software.

This solution had to meet the needs of both of Dave's roles:

---

"We were sure NAVEX case management would be a good investment. But it has turned out to be a GREAT investment!"

- Dave Wilber Chief Operating Officer and Corporate Compliance Officer Eggleston Services

---

The Practitioner: How does this not for profit COO know his solution is working to ensure overall health & safety compliance?

Within six months of implementing the NAVEX solution, Eggleston saw a 98% increase in reported incidents (due to the ease with which employees could submit these reports) and a 1500% increase in the reporting of "near misses." The increased awareness of these incidents/ near misses has enabled Eggleston to implement more effective and targeted training and remediation programs, improving the overall performance of their health and safety program.

The Auditor: How can this not for profit auditor materially reduce the time and money needed to maintain their programs and gain valuable accreditations?

Despite the dramatic increase in number of reports, the time from report to resolution has been more than halved, delivering to the organization significant return on their investment.

By implementing a customized case management report form as Eggleston's health & Safety Portal to log all compliance-related tasks in the organization, time to gather relevant safety and health information needed by CARF surveyors has been reduced significantly, allowing them to focus on other areas of business consultation.

Incident Reporting Results:

| | Reported incidents | Reported 'Near Misses' | Average time to process |
| --- | --- | --- | --- |
| Year 1 | 168 | 2 | 10-14 days |
| Year 2 | 320 198% increase | 30 1500% increase | 5-10 days |

Along with training on the system, Eggleston provided additional employee training that focused on fostering an atmosphere free of blame and shame – a cultural "no fear" policy. They encouraged employees to report all incidents, regardless of fault, for the good of patients and an improved open work environment.

A hotline is ultimately a support mechanism for policies and procedures. It's important to have effective reporting systems. But your first and best defense is having a well- managed policy and procedure library.

They were expecting an uptick in reporting after deploying the web-based system, however the almost 100% increase in the 6 months after implementation was a surprise, as were the reports of near misses now versus with the previous hotline-only approach.

Said Wilber, "initially the increase might make you think, 'Oh goodness!' but it told us we had been severely under reporting with the old system."

Additionally, staff reports the following improvements following deployment:

Tremendous ease-of-access for the incident reports makes the process easier and simpler to complete in a timely fashion;
Managers of sites now have access to all the information pertaining to their staff/scope and don't have to wait for the executive team to run reports, enabling them to make immediate changes and not wait for corporate; and
Eliminated numerous duplicate reports – innumerable copies of each report used to circulate within the company, but now all reports are in the system and can be pulled as needed – saving time, increasing privacy and lowering costs.

About NAVEX

NAVEX's GRC software and compliance management solutions support the integrated risk, ESG and compliance management programs at more than 13,000 organizations worldwide.
Learn how to put EthicsPoint to use in your own organization