Download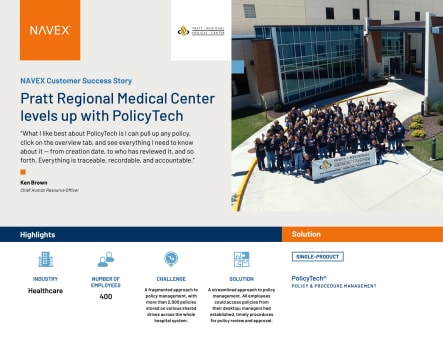 Case study
Pratt Regional Medical Center levels up with PolicyTech
Download
About this Case study
Pratt Regional Medical Center adopted PolicyTech for a streamlined, unified approach to policy management, a superior system of reminders and alerts for policy renewal, and a solution that was cost-effective and easy to learn.
Industry:

Healthcare

Number of employees:

400

Before:

A fragmented approach to policy management, with more than 2,000 policies stored on various shared drives across the whole hospital system.

After:

A fragmented approach to policy management, with more than 2,000 policies stored on various shared drives across the whole hospital system.

Read the Case study

Challenge: Pulling Policies Together Into a Single, More Powerful Resource for All

Pratt Regional Medical Center (PRMC) is a nonprofit community hospital system that has served the county of Pratt, Kansas, for more than 60 years. Today it operates its own flagship hospital, supports two affiliates, and manages several physician practices around the region.

That expansive geographic and operational footprint led to an accumulation of policies over the years. By the late 2010s, PRMC had more than 2,000 policies, managed in one shared drive with each department managing its own respective folder and policies.

The shortcomings of this approach were especially apparent at the enterprise level. Managers had great difficulty pulling policies together from multiple departments, or comparing policies from one department to another. Consistency was another challenge. For example, policies related to the admitting department might be named "admissions," "admitting," or "admissions department."

As a result of those growth pains, the process for policy review — identifying policies coming up for renewal, making changes as necessary, getting proper review and approval in a timely manner — "got kind of cluttery," says Ken Brown, PRMC's Chief Human Resources Officer. That was no longer tenable for a highly regulated business such as a hospital system.

Brown knew that Pratt Regional Medical Center needed a more streamlined, unified approach to policy management. He also wanted a better system of reminders and alerts for policy renewal, better reporting, and a solution that was cost-effective and easy to learn.

Solution: Implementing PolicyTech for Robust, Integrated Policy Management Across Locations

Brown began by building cross-enterprise support for a more robust policy management platform. He started by engaging PRMC's director of IT and two document management specialists in a review of PolicyTech's functionality over the course of a few webinar demonstrations. The simplified process for policy management and the greater degree of control quickly won support.

More important was training for about 40 managers across all of PRMC's locations and business functions, so they could take full advantage of PolicyTech's capabilities. That brought an end to futile searches for a policies buried in the system and requiring precise phrases to be found. "If you look at a return on investment, and you had a way to put a price tag on frustration, you'd soon realise PolicyTech is very well worth it," Brown says.

The actual implementation and training were both straightforward processes. When Pratt Regional Medical Center employees needed an extra training session or product demonstration, the Medical Center's account representative at NAVEX could arrange them promptly. The costs were essentially the same as PRMC's previous, manual approach, while the gains in efficiency and simplicity were large.

Once Brown had secured support for PolicyTech from the rest of the enterprise, he presented the project to senior management. "They said that with that many people in support of it, it would be hard to say no, and that PolicyTech would be a good fix for the organisation," Brown says. "And so we did it."

Results: Solid Control Over Policies and a More Informative Experience for All

Today, all Pratt Regional Medical Center employees have access to PolicyTech on their computer desktops. Moreover, many corporate policies also link back to educational materials in Lippincott, a vast database of articles and videos on nursing topics. So if an employee is reviewing policies for, say, when to use a certain medical procedure, those policies can also take the employee to relevant materials in Lippincott that demonstrate how to perform the procedure.

In other words, PolicyTech helps PRMC employees know what to do; and the platform guides them to related external sources that help them understand how to do it.

Managers have embraced PolicyTech to better administer their policy development and review. For example, Brown and his team use PolicyTech's alerting, reminder, and reporting capabilities to keep a steady pace of policy review and renewal every month, rather than rushing through all policies at the end of the year. "You know which manager owns the document, so it's easy to say, 'Hey, you're going to get a reminder on this, we know you're going to need to do it'," Brown says.

PolicyTech has also been a handy technology to have in the wake of COVID-19. Like every other hospital, PRMC has been bombarded with recommendations from state and federal regulators for safety precautions to take amid the pandemic. "After a while, that practice probably becomes a routine, and then becomes your policy," Brown says. PolicyTech makes it much easier for them to adopt and push out those new COVID-19 policies quickly.

---

About Pratt Regional Medical Center

Pratt Regional Medical Center owns and operates a flagship hospital in Pratt, Kansas; works with two affiliate hospitals within 50 miles, and manages five other physician clinics in the nearby vicinity. Its services include emergency room care, surgery, oncology, home health visits, and physical therapy; within its 35-bed acute healthcare facility as well. PRMC has 400 employees and an expense budget of $53,780,000.
Learn how to put PolicyTech to use in your own organization