Case Study
NCCI Offers Training that Meets Employee Preferences & Regulatory Obligations
Download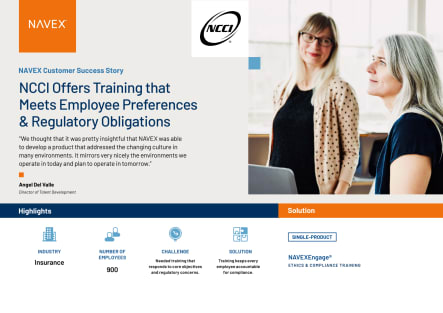 Case Study
NCCI Offers Training that Meets Employee Preferences & Regulatory Obligations
Download
About this Case Study
NAVEX delivers training that meets the needs and learning styles of its employees and complements NCCI's learning development goals.
Industry:

Insurance

Number of employees:

900

Before:

Needed training that responds to core objectives and regulatory concerns.

After:

Training keeps every employee accountable for compliance.

Read the Case Study

Challenge: Balancing Core Objectives & Regulatory Obligations

When building corporate training programmes, companies must balance providing training that aligns with an organisation's core objectives with training that meets regulatory obligations. To rise to that challenge, the National Council on Compensation Insurance (NCCI) leverages an internal corporate compliance committee to decide on the required compliance classes that it offers to its 900 employees.

Each year, Angel Del Valle, NCCI's director of talent development, works with the committee, made up of several executive team members, to evaluate the company's current needs and regulatory obligations to look for gaps where training programmes are needed.

Solution: NAVEXEngage® Ethics & Compliance Training Optimises Training Efforts

After evaluating organisational needs, the compliance committee decides on a plan for the year, and leverages both NAVEX online training courses and training that is developed in-house. "We will always leverage NAVEX's product, but things that are more tailored towards our environment, we'll actually develop that and implement that in-house." In that way, NAVEX training is able to work in tandem with the internally developed specialised topics.

One of the courses from NAVEX that NCCI frequently leverages is Workplace Harassment Training for both employees and managers. With regularly updated content, the material stays fresh and in compliance with regulatory requirements both on a national and local level. For example, NCCI has one employee in the state of New York. When the laws in New York changed surrounding harassment prevention training, NAVEX provided an update to the training that met those state requirements, keeping NCCI's training programme in compliance.

In addition to the regularly updated content, Del Valle and his team appreciate the look and feel of the training from NAVEX with characters and settings that reflect a more modern version of the corporate setting. "We thought that it was pretty insightful that NAVEX was able to develop a product that addressed the changing culture in many environments. It mirrors very nicely the environments we operate in today and plan to operate in tomorrow," said Del Valle.

Results: Training that Offers Accountability & Fits Employee Learning Needs

One of the core organisational culture pillars of NCCI is accountability. In accordance with that pillar, Del Valle and the company expect that compliance is something that every employee needs to be held accountable for. The automated tracking included with NAVEX courses helps facilitate alignment with the company's objectives. Del Valle and his team can assign a training course to employees, track their activity and progress through the LMS, and send automated reminders if necessary to ensure course completion within deadlines and attestation within regulatory requirements. Audit-ready reporting is available to the agencies that monitor NCCI in the insurance industry.

NAVEX's online training also fits in with some of NCCI's broader learning initiatives. Through a programme called "Launching Leaders," the company is building a training programme to support managers, empowering them with strategies for communicating effectively throughout the organisation. With an average employee tenure of over 13 years, NCCI is continually looking for ways to invest in training that helps develop those employees.

An important part of that investment is finding and developing training programmes that meet the needs and learning styles of its employees. NCCI does this by working with partners like NAVEX to deliver training that brings a different perspective and complements the organisation's learning development goals. "Our workforce is made up of highly intelligent, brilliant individuals. But if we look at the spectrum of personalities, many may be considered to be introverts. It's important for us, as we progress in our organisation, to make sure that we can provide tools that they can use to effectively communicate," said Del Valle.

---

About the National Council on Compensation Insurance (NCCI)

Founded in 1923, the mission of the National Council on Compensation Insurance (NCCI) is to foster a healthy workers compensation system. In support of this mission, NCCI gathers data, analyses industry trends, and provides objective insurance rate and loss cost recommendations. These activities – combined with a comprehensive set of tools and services – make NCCI the source you trust for workers compensation information.
Want to learn more about Ethics & Compliance Training? Contact Us Today.