Case study
Luxury Fashion Accessories Manufacturer Streamlines Compliance with Conflict Minerals
Download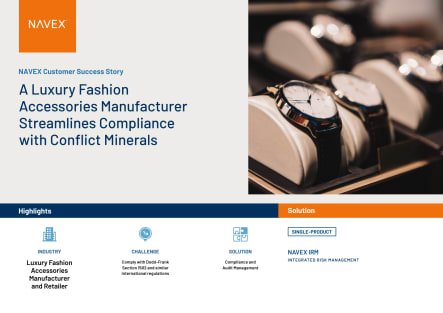 Case study
Luxury Fashion Accessories Manufacturer Streamlines Compliance with Conflict Minerals
Download
About this Case study
The manufacturer and retailer selected NAVEX's governance, risk management, compliance (GRC) platform, Lockpath, to bring efficiency and cost savings to its Dodd-Frank 1502 compliance effort. The company's conflict minerals compliance program was up and running in just six weeks.
Industry:

Luxury Fashion Accessories Manufacturer and Retailer

Challenge:

Comply with Dodd-Frank Section 1502 and similar international regulations

Solution:

Compliance & Audit Management

Results:

$3.7 million in approximate annual savings. Distribute RCOI Survey in minutes, not weeks. 6-12 months in time savings using platform

Read the Case study

GRC Platform Saves the Company From Incurring Millions in Compliance & Audit Costs

Companies that source raw materials around the world to manufacture products may be unaware of or disregard the materials country of origin. It is a concern when minerals are mined in war-torn regions with profits going to fund warring factions.

Additionally, companies are often removed from mineral sourcing as suppliers typically manage that process. Given a company may work with hundreds or thousands of suppliers, it is difficult to know which, if any, are sourcing conflict minerals.

Dodd-Frank Section 1502 addresses the issue of minerals mined in areas of the world under heavy conflict from armies and militias such as the Democratic Republic of Congo in Central Africa. There is a sizeable global market for these minerals, as they are used in consumer electronics, as well as dyes, fasteners, accessories and other manufactured goods. Section 1502 requires public companies to disclose annually whether these conflict minerals exist in their supply chains. If so, companies must report on due diligence efforts and conduct a private sector audit.

For a luxury fashion accessories manufacturer and retailer with over 1,000 suppliers around the world, meeting compliance and audit requirements mandated by Section 1502 would cost around $3.5 million annually and take six to 12 months to complete.

The challenge for the manufacturer/retailer is two-fold: one, compliance and audit challenges with meeting 1502 requirements. Two, public pressure on organizations for transparency.

Download the case study to learn more.

About NAVEX

NAVEX's GRC software and compliance management solutions support the integrated risk, ESG and compliance management programs at more than 13,000 organizations worldwide.
Want to learn more about Integrated Risk Management?