Case study
EnerSys: ESG Program will Automate Resource Footprint Calculations
Download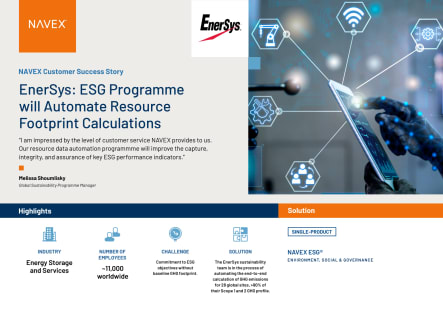 Case study
EnerSys: ESG Program will Automate Resource Footprint Calculations
Download
About this Case study
As a key part of their program, EnerSys needed to establish a baseline GHG footprint across 173 locations for reporting, analysis, site comparison, improvement planning, and commitment management. Standard PC software could not be reliably used to manage this process. EnerSys selected NAVEX ESG to manage their environmental footprint and GHG profile.
Industry:

Energy Storage & Services

Number of employees:

~11,000 worldwide

Before:

Commitment to ESG objectives without baseline GHG footprint.

After:

The EnerSys sustainability team is in the process of automating the end-to-end calculation of GHG emissions for 28 global sites, >90% of their Scope 1 and 2 GHG profile.

NAVEX Product:
Want to learn more about Integrated Risk Management?