Case study
Claims Recovery Service Embraces Integrated Risk Management & New Risk Culture
Download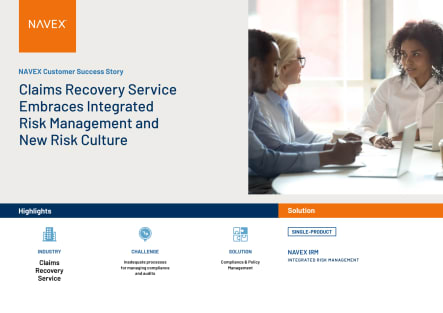 Case study
Claims Recovery Service Embraces Integrated Risk Management & New Risk Culture
Download
About this Case study
The company faced challenges with growing regulations as well as increased compliance and audit costs. When the company's manual processes couldn't keep up, they found a solution in Lockpath. The platform not only helped the company cut compliance costs dramatically, but it also improved the accuracy and efficiency of their entire compliance program.
Industry:

Claims Recovery Service

Challenge:

Inadequate processes for managing compliance and audits

Solution:

Compliance & Policy Management

Results:

50% reduction in time and costs for each process

Read the Case study

Challenge: Inadequate processes for managing compliance and audits

For years, a financial claims recovery service used manual processes – a combination of spreadsheets, stored documents, email and other office tools – to manage its compliance and audit programs. Remaining compliant with the many financial rules and regulations was a time-consuming process – and there was always a chance of missing something. The company relied on documents in hundreds of file folders in multiple network drives, each with its own security permission. The company maintained a list of policies on spreadsheets and Sharepoint sites, but none of the information was linked, making it nearly impossible to update policies – or even know they existed. It was hard for staff members to find documents, and they often referred to outdated policy versions, because some hadn't been updated in more than two years.

As regulations grew more complex, customer compliance demands multiplied, and as the cost of noncompliance grew steeper, it quickly became clear spreadsheets weren't enough. The company was spending more than $500,000 a year managing compliance.

Download the case study to learn more.

About NAVEX

NAVEX's GRC software and compliance management solutions support the integrated risk, ESG and compliance management programs at more than 13,000 organizations worldwide.
Want to learn more about Integrated Risk Management?