Micro Learning
Gifts & Entertainment: Understanding Acceptable and Unacceptable Gifts
Course Preview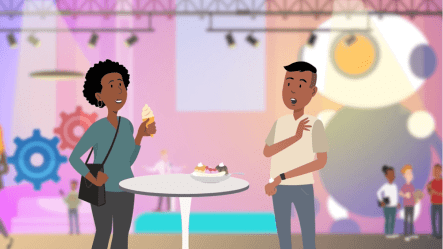 Try it for free!
By submitting this form, you agree that NAVEX will store and process your personal information above according to our Privacy Statement and may send you thought leadership, marketing emails, and events. You can unsubscribe from communications at any point.
Thank you for your interest in our online compliance training solutions. A NAVEX representative will contact you shortly. If you have any immediate questions, please give us a call 1-866-297-0224.
Exchanging gifts, entertainment and hospitality is often considered a normal part of doing business. But sometimes even a well-intentioned offer can cross the line. This micro learning helps employees to better understand that line, exploring both the general guidelines for gift-giving as they pertain to non-government business partners and the tighter restrictions and general prohibition on gifts as they pertain to government officials.
This course works well with
Ethics and Code of Conduct

Code of conduct training is an effective way to share your organisation's values while reducing the risk of penalties & imprisonment.

Government Contracting: Gifts, Gratuities and Bribery

NAVEX's Government Contracting: Gifts, Gratuities and Bribery course covers the strict restrictions on gifts and gratuities as they pertain to federal government contracts, and the potential liability for organisations if they aren't followed.