White Paper
U.S. Department of Justice Compliance Program Guidance: June 2020 Updates Review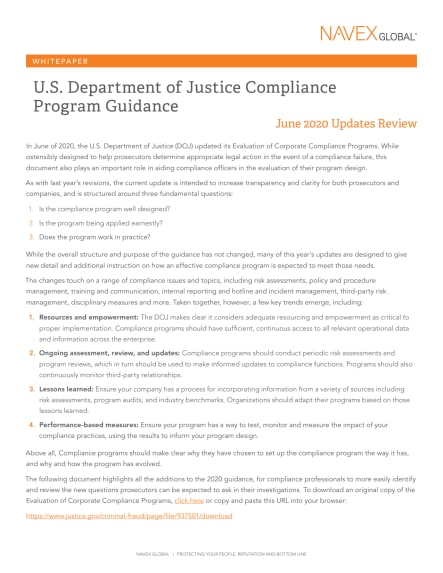 Get instant access to the White Paper
We respect your privacy and won't share your information with outside parties. View our privacy statement.
About this White Paper
Hidden within roughly two dozen updates to the DOJ's "Evaluation of Corporate Compliance Programs" is a new story of effectiveness for compliance professionals. This document records the latest changes the DOJ has made to its guidance to help risk and compliance professionals identify potential program gaps.
For anyone responsible for:

Enterprise risk and compliance management

Learn about the DOJ's risk and compliance expectations for:

Risk assessment
Policies and procedures
Compliance training
Third-party risk management
Internal reporting

Page length:

14 pages