Download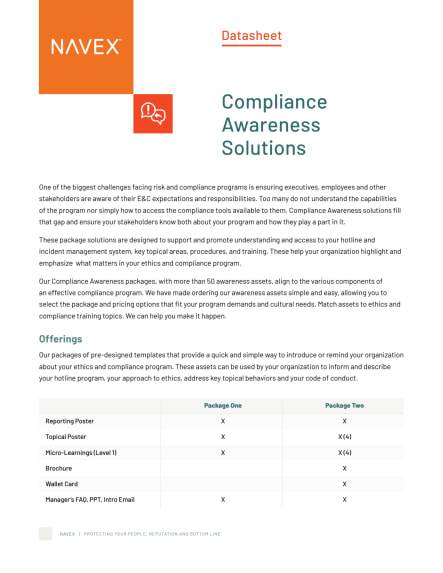 About this Datasheet
Browse samples of our proven ethics & compliance program awareness materials.
For anyone responsible for:

Ethics and compliance program management, employee compliance training, employee compliance awareness

What's included:

65 pages of examples of NAVEX's Employee Compliance Awareness posters and materials
Interested in learning more about NAVEX Awareness Materials?
Read the Datasheet
Compliance Awareness Solutions
One of the biggest challenges facing risk and compliance programs is ensuring executives, employees and other stakeholders are aware of their E&C expectations and responsibilities. Too many do not understand the capabilities of the program nor simply how to access the compliance tools available to them. Compliance Awareness solutions fill that gap and ensure your stakeholders know both about your program and how they play a part in it.
These package solutions are designed to support and promote understanding and access to your hotline and incident management system, key topical areas, procedures, and training. These help your organization highlight and emphasize what matters in your ethics and compliance program.
Our Compliance Awareness packages, with more than 50 awareness assets, align to the various components of an effective compliance program. We have made ordering our awareness assets simple and easy, allowing you to select the package and pricing options that fit your program demands and cultural needs. Match assets to ethics and compliance training topics. We can help you make it happen.
Offerings
Compliance Awareness:
Employee Awareness Email – Introduces the program, helps to set an ethical tone and engages every employee from the outset
Program Overview Presentation – A PowerPoint presentation tees up the program and helps management cascade the message throughout the organization
Manager's guide and FAQ – Familiarizes implementers with the program and answers any questions they may have as they introduce the program to employees
Reporting Poster – Provides employees with quick-read information on how to report misconduct
Micro-Learning – Topical 90 second animated video with no interactivity or text screens. Awareness level learning meant for all employees
Employee Brochure – Puts information about the program into your employees' hands and provides for quick reference to the hotline
Wallet card – Provides for quick reference to the hotline
Topical Posters – Delivers a compelling message about a key topic and appropriate behavior
Standard Customizations include: Hotline number, Web URL, Mobile intake URL, QR code, Company logo.
Languages available: Chinese(simplified), Dutch, English (US), English (UK), French (Canadian), French (EU), German, Italian, Japanese, Korean, Portuguese (Brazil), Russian, Spanish (LA), Spanish (EU).
All files are delivered in digital format.
About NAVEX
NAVEX's GRC software and compliance management solutions support the integrated risk, ESG and compliance management programs at more than 13,000 organizations worldwide.