Micro Learning
Third Party Risk Management: Documents & Records Protection
Course Preview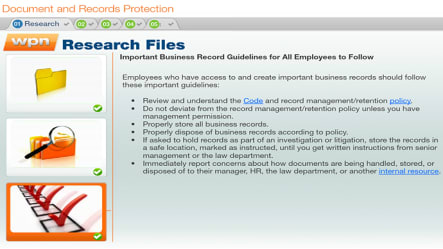 Try it for free!
We respect your privacy and won't share your information with outside parties. View our privacy statement.
Thank you for your interest in our online compliance training solutions. A NAVEX representative will contact you shortly. If you have any immediate questions, please give us a call 1-866-297-0224.
Third-party business partners (such as vendors, agents, suppliers, distributors and others) are introduced to the importance of proper document and records retention. It includes content on the purpose of a record retention policy, the benefits of proper record retention and destruction, the role of records in establishing legal compliance and a legal defense, and the important employee obligations, including the proper storage and destruction of business records.