Micro Learning
Anti-Corruption Basics for Third Parties (MyReport)
Course Preview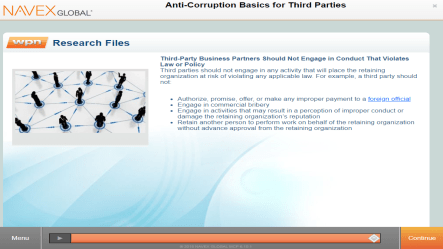 Try it for free!
We respect your privacy and won't share your information with outside parties. View our privacy statement.
Thank you for your interest in our online compliance training solutions. A NAVEX representative will contact you shortly. If you have any immediate questions, please give us a call 1-866-297-0224.
Specifically designed for third-party business partners (such as vendors, agents, suppliers, distributors and others) to introduce them to the basics of anti-corruption laws. Covers fundamental concepts such as the roles and responsibilities of third-party business partners, the application of law and policy to third-party business partners, the obligation to conduct all business with integrity and in compliance with all applicable laws and the organization's policies, and the rule against bribing a foreign official and the rules against engaging in commercial bribery, both passive and active.
This course works well with
Global Anti-Bribery & Corruption (Basics)

NAVEX's global anti-bribery and corruption training covers global laws and regulations, foreign officials, third parties, as well as the critical role accurate recordkeeping plays in avoiding liability.