Micro Learning
Anti-Corruption Records & Reporting (MyReport)
Course Preview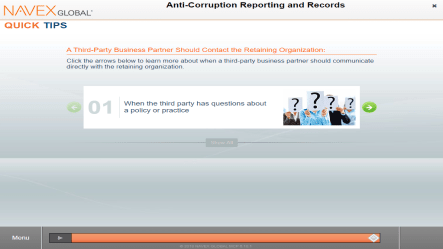 Try it for free!
We respect your privacy and won't share your information with outside parties. View our privacy statement.
Thank you for your interest in our online compliance training solutions. A NAVEX representative will contact you shortly. If you have any immediate questions, please give us a call 1-866-297-0224.
Specifically designed for third-party business partners (such as vendors, agents, suppliers, distributors and others) and their employees, this course explores the importance of keeping accurate and appropriate written business records in order to document legal compliance and ensure that payments made to foreign officials and business partners are legitimate. It covers the obligations of third-party business partners to: follow the laws and policies of their retaining organization, conduct all business transparently, lawfully and with proper documentation, assist with audits and requests for information and maintain open communication.
This course works well with
Global Anti-Bribery & Corruption (Basics)

NAVEX's global anti-bribery and corruption training covers global laws and regulations, foreign officials, third parties, as well as the critical role accurate recordkeeping plays in avoiding liability.