Request a demo

Demo successfully requested! A team member will reach out soon to schedule your demo session.

If you need help or want further info in the meantime, feel free to give us a call at 1-866-297-0224.

Have a nice day. :)
Turn Integrated IT Risk Management into Instant IT Risk Management

Introducing NAVEX IRM Out of the Box, our latest IRM solution that gets you up and running in weeks instead of months. Say goodbye to cumbersome spreadsheets. Say hello to IRM Out of the Box.
Secure Your Business as It Grows
Vulnerabilities in your organization's infrastructure can compromise both your current financial situation and endanger its future. IT Risk Management, part of the NAVEX IRM solution, helps you to quickly build an automated, robust and sustainable information security management system that enables continuous identification of new and emerging IT risks.
Download the Datasheet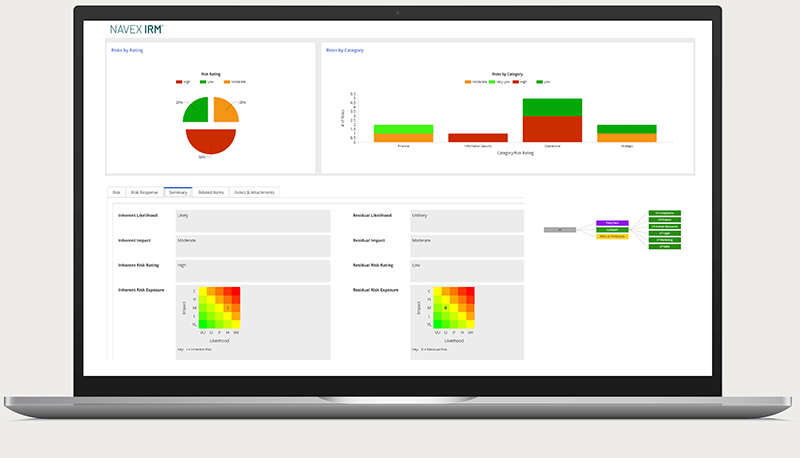 A Simple Solution for Real-Time Protection From IT and Cyber Risks
Protect Your Business
Evaluates and easily accommodates changes in risk profile, processes, compliance obligations, strategies and business goals. Leverages existing IT investments to optimize data from third party security vendors to holistically expose threats and obtain a true view of your vulnerabilities.
Adapt and Retain Compliance
Creates and maintains a defensible record of activities and enforces compliance across the organization. Manages the incident lifecycle from root cause analysis to corrective action plan implementation.
Address and Accommodate Change
Understands what assets you have, where they are vulnerable, and the impact if they are exploited. Prioritizes investigation and remediation activities based on severity. Maintains a complete asset database and conducts periodic IT risk assessments.
Looking to Get Started with ITRM & TPRM? Access Our Toolkit.
IT Risk Resources