Datasheet
RiskRate: Enterprise Due Diligence
Download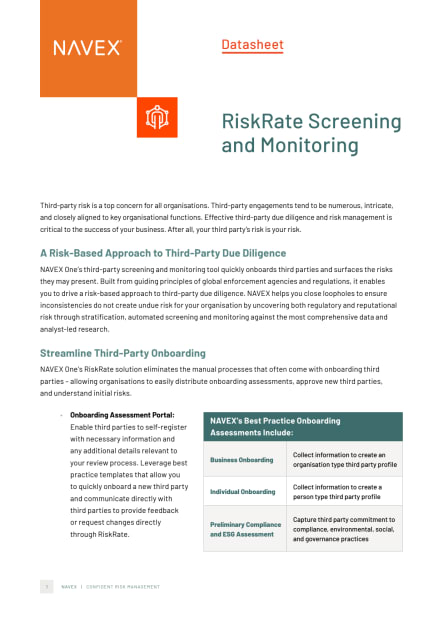 Datasheet
RiskRate: Enterprise Due Diligence
Download
About this Datasheet
NAVEX's Third Party Risk Management Platform creates a cost-effective way to continuously monitor your third parties & risk-rank them. Gather details here.
For anyone responsible for:

Third party risk management, vendor management, third party due diligence

What you'll learn:

Why RiskRate is the best solution through which your third party risk management can be streamlined, centralised and expertly managed
How RiskRate empowers you to actively reduce your organisation's unique risks
Want to learn more about RiskRate?
Schedule a demo today.
Read the Datasheet
RiskRate: Enterprise Due Diligence
Continuously Monitor Third Party Risk
The number of third-party vendors, suppliers and other agents with which organisations engage is growing dramatically—along with the risks they represent. Under the U.S. Foreign Corrupt Practices Act (FCPA) and the U.K. Bribery Act, organisations are held liable when they fail to prevent a wide range of crimes, corruption, and fraud committed by their third parties.
Organisations need to ensure their third parties are screened against the right criteria, at the right time, and with the appropriate level of rigour. Only an automated system that looks at all third parties against a standard set of data can provide the right information to make data-driven decisions regarding third party risk. Relying on manual approaches can cause organisations to spend precious time and money on third parties that may not need investigation—and to overlook those that do.
RiskRate Solution
RiskRate is a cost-effective platform that performs around-the-clock, automated third party risk monitoring. This is the industry-leading approach for mitigating third party risk.
»» Identify Real Versus Perceived Risk: RiskRate gives you data to make decisions on real risk—not perceived risk. All third parties are screened against a client defined set of risk data so you have an objective ranking with which to make decisions.
»» Automate Monitoring & Expedite Remediation: RiskRate continuously monitors third parties to identify any changes in risk. If there is a change, the platform proactively generates an alert which is screened and routed by to the appropriate individual(s) within your organisation.
| Feature | Benefit |
| --- | --- |
| Drive Training and Policy Attestations | RiskRate allows you to send custom questionnaires to third parties. Link critical training content and policies to the questionnaire to enable legally binding attestation. |
| Centralised Platform | All reports are housed in a centralised, SaaS-based repository that is audit ready. RiskRate allows unlimited users so you can customise who can view, assess and take action on reports. |
| Custom Risk Scoring | Organisations have different risk standards. RiskRate allows you to set up the risk profile that is right for you. All due diligence run through the system is rated against your standard risk guidelines and scored based on your organisation's risk profile. |
| Automated Survey and Questionnaire Workflow | When additional due diligence is needed, RiskRate automates the distribution, collection, and review of surveys and questionnaires sent to third parties. |
| In-Depth Screening | Third parties can be screened against data from 400+ sanctions lists, watch lists, Politically Exposed Persons (PEP) lists and over 10,000 global publications. |
| Reduced False Positives | All reports and alerts go through analyst review before passing through the platform. This minimizes false positives and allows you to focus on real risks. |
RiskRate Report Types
If a third party raises a red flag, RiskRate offers different levels of reporting to run on that party based on the level of risk
they present.
| Due Diligence Type | Pre-Screening Assessment | Single Screening Report | Multiple Screening Report | Questionnaire Screening Report | Advanced Organisational Screening |
| --- | --- | --- | --- | --- | --- |
| Sanctions / Watch List | | X | X | X | X |
| PEP List | | X | X | X | X |
| Adverse Media | | X | X | X | X |
| Number of Entities or Individuals Screened | | 1 | 5 | 5 | 5 |
| Questionnaire | X | | | X | X |
| Document Collection | X | | | X | X |
| Financial Background Check | | | | | X |
| Compliance Program Assessment | | | | | X |
With RiskRate, you can add Analyst-Led Review or Analyst-Led Enhanced Due Diligence to any report. This allows you to research and check records against specific issues, receive guidance on risk mitigation steps, and resolve specific alerts.
**About NAVEX** NAVEX's GRC software and compliance management solutions support the integrated risk, ESG and compliance management programs at more than 13,000 organizations worldwide.