Get Pricing Now

Modern Workforce Training

We respect your privacy and won't share your information with outside parties. View our privacy statement.

Thank you for your interest in NAVEX's Online Compliance Training Courses. We will contact you shortly.

If you have any immediate questions, please give us a call at 1-866-297-0224.
Employee compliance task management, simplified.
Introducing People Hub, a new portal available in NAVEX One that combines all your people's compliance tasks in one central hub. Inform, Educate and Empower Your Employees
Effective ethics & compliance training programmes should satisfy federal and state training mandates and improve your organisation's culture. NAVEXEngage, NAVEX's online ethics and compliance training solution, provides legally vetted and topical content that helps you with compliance and employee adoption.
View Course Library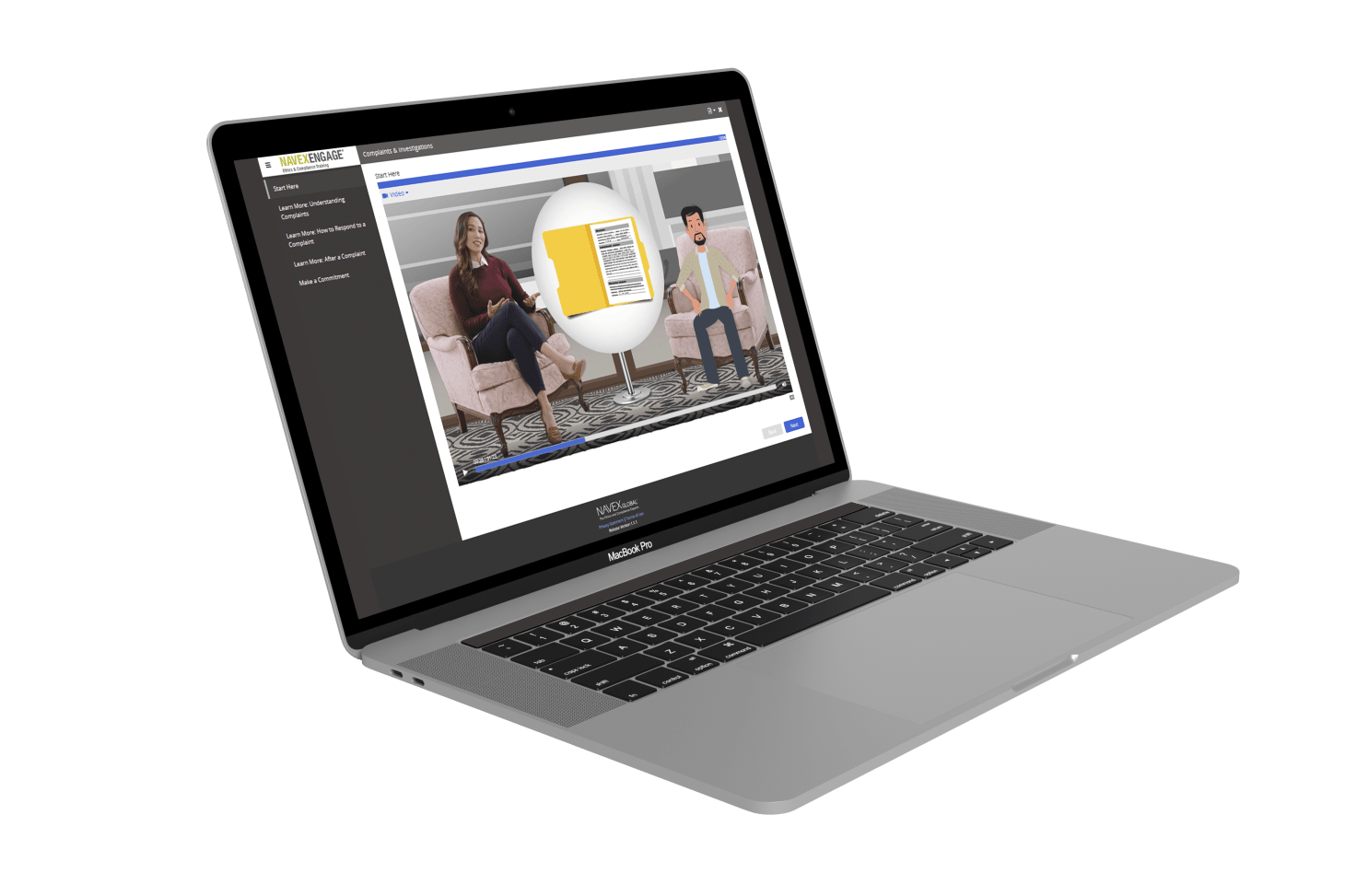 Deliver Applicable Course Content Legally Vetted by Baker McKenzie and Endorsed by the ACC.
Ethics & Compliance Training That Advances Company Culture and Reduces Organisational Risk
Create Value with Effective Training Content
Delivers trusted, legally-vetted course content that addresses compliance, conduct, employment law and information security risks. Customisable options and translations available.
Stay Current and Satisfy Requirements With Flexible Courses
Designed to withstand courtroom scrutiny and meet the demands of federal and local training mandates. lexible subscription model allows you to swap out course titles and train on multiple topics. Content is updated regularly to ensure the latest relevant topics and regulations are addressed.
Offer Training Designed Around the Way People Learn
Concepts are socialized in relatable ways and are reinforced through Micro Learnings. Training can be taken anywhere, anytime on desktop and mobile devices. Interactive elements throughout each module ensure learners' attention and focus.
Provide a Tailored Learning Experience with Adaptive Learning Courses
NAVEX's Adaptive Learning courses adapt the content to the individual learner based on their performance throughout the training. This rewards learners who demonstrate proficiency by quickly progressing them through the content, saving time and reducing training fatigue.
• Build a training programme that better aligns with the DOJ guidance and helps you reach your organisational goals
• Train on more critical compliance topics without the burden of the full-time commitment
• Reduce employee complaints about training on the same topics year over year
• Drive employee engagement and knowledge retention
• Efficiently and effectively train employees with varying baseline knowledge, reaching more learners
Not sure where to begin?
Use our Getting Started toolkit to build your Online Ethics & Compliance Training programme.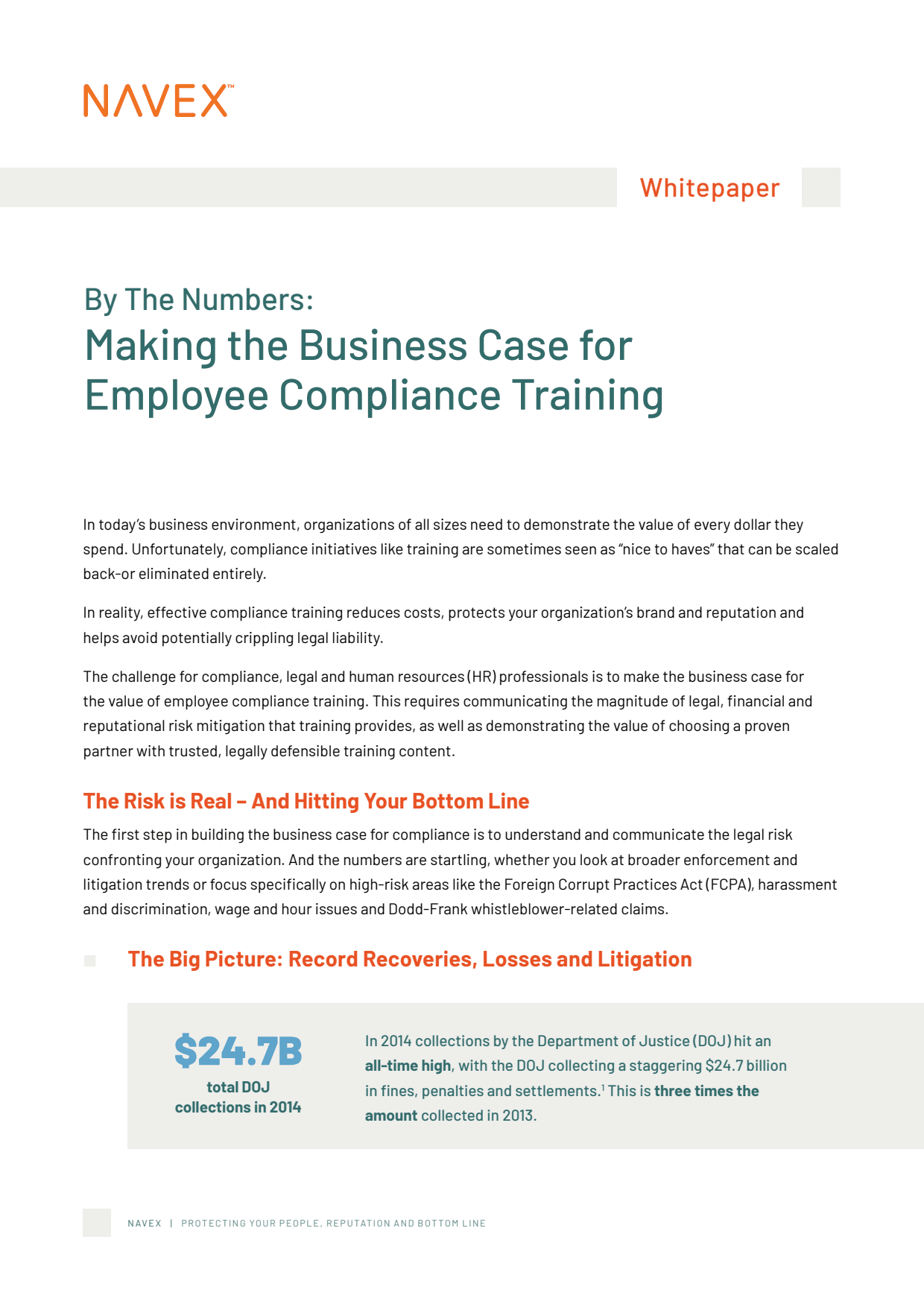 "NAVEX was able to develop a product that addressed the changing culture in many environments. It mirrors very nicely the environments we operate in today and plan to operate in tomorrow."
Angel Del Valle, Director of Talent Development / NCCI
Compliance Training Resources